Wooster Branch established May 1923
The American Association of University Women (AAUW) empowers women and girls through advocacy, education, philanthropy, and research. Our nonpartisan, nonprofit organization has more than 170,000 members and supporters across the United States, as well as 1,000 local branches and 800 college and university partners. Since AAUW's founding in 1881, our members have examined and taken positions on the fundamental issues of the day — educational, social, economic, and political.
AAUW's Mission
"To advance gender equality for women and girls through research, education, and advocacy".
AAUW's Value Promise
By joining AAUW, you belong to a community that breaks through educational and economic barriers so that all women and girls have a fair chance.
AAUW Diversity Policy                                                                                                                              In principle and in practice, AAUW values and seeks a diverse membership. There shall be no barriers to full participation in this organization on the basis of gender race, creed, age, sexual orientation, national origin, disability, or class.
AAUW Ohio Wooster Branch Awards – North East Ohio Convention 2019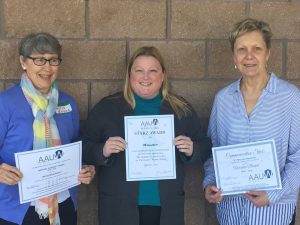 AAUW National has started a new book club to replace the Adelante! Book Club. This new club is named Operation Equity: Reading for Results. The focus is to do something to advance gender equity rather than simply discuss the issue. There is quite a long list of books (15) for the August -October period with a focus on education and training. You can find these books listed on the National AAUW website. A sampling is listed here for your convenience.
Venture Girls: Raising Girls to be Tomorrow's Leaders by Cristal Glangchai
We Believe You: Survivors of Campus Sexual Assault Speak Out by Marilyn Cabay, Bianca L. Bernstein, Melissa Rivers, and Natalie Fabert
Investigating Gender Differences in Mathematics and Science: Results from the 2011 Trends in Mathematics and Science by David Reilly, David L. Neumann, and Glenda Andrews
Please let either Carol McKiernan or Stefani Koorhan know if you read one of the listed books so that they can share your insights with the Literary Group.
AAUW Work Smart Online is a FREE self-paced online salary negotiation workshop, designed to empower women with the skills and confidence to negotiate for fair pay. Participants learn how to research competitive salaries, articulate their skills, qualifications and experience, and ask for – and get—the pay they deserve.
Sign up for AAUW Work Smart Online today and become an advocate for equal pay. https://salary.aauw.org/