AAUW Wooster (OH) Branch
AAUW Wooster (OH) Branch scholarship information
Scholarship Criteria.
Available to female residents of Wayne County, Ohio whose post-secondary education was interrupted by financial or family issues. It is for non-traditional students enrolled or planning to enroll in a qualified undergraduate associate and/or bachelor's degree program. It is not for students coming directly out of high school, nor for persons pursuing a graduate degree. First preference shall be given to applicants who have not previously obtained a bachelor's degree. Term of the scholarship, amount, and number of new awards each year is determined by Selection Committee.
AAUW Wooster Branch scholarship application 2021
AAUW – Wooster Branch – Scholarship  Fund  Donations Welcome                                       AAUW Wooster Branch Scholarship Fund is a tax-exempt public charity.
Mail donation
To donate make checks payable to: Wayne County Community Foundation.                  Attention: AAUW Wooster Branch Scholarship Fund                                                                     Wayne County Community Foundation, 517 North Market Street, Wooster, OH 44691
Online donation at Wayne County Community Foundation
https://www.waynecountycommunityfoundation.org/donate

Girls in STEM
Expanding Your Horizons – AAUW Wooster (OH) Branch financially supports this yearly conference held at The College of Wooster for all fifth and sixth grade girls to learn about career opportunities from women in science, technology, engineering and math oriented fields. Students participate in three fun, hands-on workshops!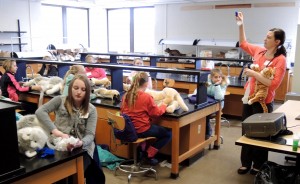 Pet first aid.- Happiness is a Healthy Pet – using tools of the veterinary trade
Fifth- and sixth-grade girls take part in a science day at COW
WOOSTER — The largest group of potential scientists gathered together Saturday, April 22, 2017,  at The College of Wooster to expand their horizons and enjoy some hands on fun in science, technology, engineering and math (STEM).
With 22 workshops ranging from making a rocket fly to dropping an egg in a basket without breaking it, to an explanation of bugs or a class on edible landfills, there was something for every one of the 240 young ladies in grades five and six in the Tri-County area (Ashland, Wayne and Holmes Counties).
Expanding Your Horizons is a program designed for fifth and sixth-grade girls to learn about career opportunities for women in math or science-related fields.
"This is our biggest group ever and it just keeps growing," said Karen Skubic, event coordinator. "The goal of the program is to motivate girls to become innovative and creative thinkers, ready to meet 21st century challenges."
The students were greeted enthusiastically by College of Wooster President Sarah Bolton, herself a scientist.
"Middle school, this age is a critical age for young people," Bolton said. "Even though they're not officially deciding what they're going to do, students stick with math and science through middle school, that determines in many ways the things they'll be able to do in high school.
"Maintaining students' enthusiasm, getting them excited at this age is so crucial for them to continue doing those things in middle school," she continued. "It opens doors for them for the whole future if they stick with science and math. What I love about this program, although it has a lot to do with what we do at The College of Wooster, it is also connected to a lot of the ways science and technology operate in the city of Wooster and our regional community."
The president pointed out that it is important for the students to see the partnerships with local companies.
Students are seeing that not only are special things happening in college, but science and technology are embedded in all different kinds of businesses and activities in their lives in a broader way. I love the fact that this is a broader program than just The College of Wooster. It involves so many folks from the city and the region."
Wendy Bullock, a presenter from the STW Recycling District whose workshop was about the engineering of modern landfill, spoke to the students at lunch about recycling, Earth Day and environmental careers.
"We built a landfill out of edible materials," Bullock said. "I'm feeding them, which is always good to keep their interest. I do a PowerPoint presentation that shows county-wide landfill and the Kimble Recycle Center, so they can see the volume in materials of actual places. I try to keep it as realistic to them as possible. We also talk about natural resources."
The students enjoyed the hands-on part of some of the workshops. "I like rockets. They're fun to build," said Chippewa sixth-grader Brooke Underwood. "I did this course last year and it was really fun so I took it again this year. I have built rockets before. The best part is shooting them off." Underwood's first rocket (made out of paper) was launched across McGraw Chapel and hit it's target on the first try. "That was a first," said Up, Up and Away presenter Laura Grimm, a kindergarten through eighth-grade STEM teacher in the Dalton District. "That's one of the great things about science is you get to try things over and over."
Grace Brahler of Dalton was in the Humpty Dumpty Experiment workshop, where the students constructed cartons to contain an egg that was then dropped from the second floor.
"I liked that we had to build a little cart for the egg to go in, and then we got to drop it from the second story," Brahler said. "All of our eggs lived. The key to success was making a strong cart with soft cushions on the bottom to protect the egg. We put a bag on top to catch the air so the cart would come down slower. We worked in groups of two. It was a lot of fun."
That was the general consensus of the young ladies who shared their experiences. Morgan Craig of Rittman said she enjoyed her day on Saturday as well.
Reporter Kevin Lynch can be reached at 330-674-5676 or klynch@the-daily-record.com. Published: April 24, 2017. The Daily Record. Posted with permission.